[Honors Sales, Service, Customer Relations & U-Trust Skill Talents across India]
---
Through this activity, Toyota Kirloskar Motor builds on skill levels of employees to enrich customer delight beyond the best
The theme for this year's skill festival is "Be Pro – Lead, Encourage, Create"
The final Winning Champions from service category will be participating in the Annual Champions Assembly to be held at Japan.
The National Sales, Service, Customer Relations (CR) & U-Trust Skill Festival is another step to enable manpower development through skill enhancement and motivation, thereby ensuring high level of customer satisfaction with world-class experiences
For the first time TKM invited loyal customers to witness 2019 National Skill Festival
Bangalore, 12th Nov 2019: Toyota Kirloskar Motor (TKM), in its constant endeavour towards developing skilled workforce across its dealer network in the country, today conducted the 'National Skill Festival 2019' for all its dealership personnel across India. The event serves as a platform to reward exceptional sales, service, customer relations & U-Trust skills setting innovative skill standards in the industry.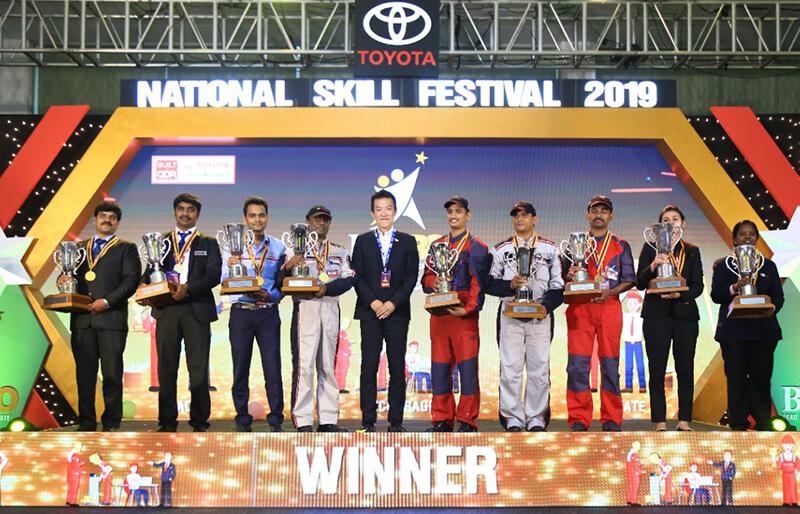 In line with the company's commitment towards the Skill India initiative, the Skill Festival is another step by Toyota who has been constantly engaged in initiatives to bridge the growing skill gap in the dynamically changing Indian industry. Held at three levels – across dealerships, In-dealer, regional and national levels, the contestants were assessed on various parameters such as knowledge, process demonstration, soft skills and proficient role plays in providing premium customer experience and human touch among others.
The event finale was attended by Mr. Atsushi Kimata, General Manager [Body & Paint Promotion Department, Customer First Promotion Group] – Toyota Motor Corporation; along with the senior Management Executives of Toyota Kirloskar Motor Mr. Shekar Viswanathan, Vice Chairman; and Mr. Tadao Kidokoro, Vice President.
Themed 'Be Pro – Lead, Encourage, Create' this year, the event witnessed an encouraging participation of 6000+ dealer participants from Sales and Service Divisions. A total of 900+ candidates participated in Regional Skill Festival. And 130 regional-level winners contested in National Skill Festival held today. The company aligning with its 'Customer first' philosophy, continuously evaluates the customer preferences and feedback to deliver best- in- class experience across its dealer networks.
Sharing his views on the performance of the contestants this year, Mr. Tadao Kidokoro, Vice President Toyota Kirloskar Motor said, "My heartiest congratulations to all the contestants from the Sales, Service & Customer Relations teams for exhibiting exceptional enthusiasm, dedication and performance. Customer delight is the cornerstone of Toyota and to successfully provide a par excellence customer experience, it is essential to constantly enhance skill sets of our workforce. With over 6000 participants this year, we received an overwhelming response from our dealer partners showcasing 'Accurate and Caring service' to our customers. As a first off, this year we also invited our loyal customers be a part of the Festival to witness how TKM inculcates a culture of customer delight amongst its employees.
The National Skill Festival is a platform that not only recognizes and rewards the best performers, but also gives our dealership staff an opportunity to sharpen their skill sets. It is a powerful tool to assess the training needs, to build a strong pool of skilled staff. We strongly believe that competitiveness will in- turn nurture a healthy work environment & develop each of our employees' potentials, challenging them to aim higher & be the best in town. This further enriches the best-in-class sales and service levels at each customer touch point, eventually delivering the most premium customer experience," he continued.
A total of 27 winners, 3 from each category were honoured by the leadership team of Toyota who were present at the event held in Toyota plant premises – Bidadi (Ramanagara District, Bengaluru). This year, the categories were Sales Consultant [New Car Sales], Dealer Instructor [Sales], Sales Consultant [Used Car Sales], Customer Relations, Body Technician, Paint Technician, Service Advisor [B&P], Dealer Instructor [Body] & Dealer Instructor [Paint] and the following final winners & runners were recognised for their specialised skill levels and awarded cash prizes, rolling trophy, winner plaque and gold medal:
SALES
Category – Sales Consultant [New Car Sales]
Position
Name
Dealer Name
Location
Winner
Surenkumar V
Lanson Toyota
Vellore
1st Runners-up
A Vinoth
Anaamalais Toyota
Erode
2nd Runners-up
Dinesh
Globe Toyota
Panipat
Category – Dealer Instructor [Sales]
Position
Name
Dealer Name
Location
Winner
Syam Sundar M
Leela Krishna Toyota
Visakhapatnam
1st Runners-up
Mohammed Nadeem Ansari
Lakozy Toyota
Mumbai
2nd Runners-up
Shweta Sangari
Galaxy Toyota
New Delhi
U – TRUST
Category – Procurement Officer [Used Car]
Position
Name
Dealer Name
Location
Winner
Divya Bharathi K
Lanson Toyota
Vellore
1st Runners-up
Chirag Swaranlal Obhan
Wasan Toyota
Mumbai
2nd Runners-up
Ranjitha H M
Ravindu Toyota
Bengaluru
CUSTOMER RELATIONS
Category – Customer Relations
Position
Name
Dealer Name
Location
Winner
Seema Rai
Ravindu Toyota
Bengaluru
1st Runners-up
Preeti Rekha Patro
Espirit Toyota
Bhubaneswar
2nd Runners-up
Sivaperumal
Lanson Toyota
Pondicherry
SERVICE
Category – Body Technician
Position
Name
Dealer Name
Location
Winner
U. Srikanth
Radha Madhav Toyota
Vijayawada
1st Runners-up
Sonu Sharma
Uttam Toyota
Ghaziabad
2nd Runners-up
Manu Murukan
Nippon Toyota
Kollam
Category – Paint Technician
Position
Name
Dealer Name
Location
Winner
Suresh Dupad
Shodha Toyota
Hubli
1st Runners-up
Dileep Kumar
Harsha Toyota
Hyderabad
2nd Runners-up
Mohd. Shakeel
Sunny Toyota
Agra
Category – Service Advisor [B&P]
Position
Name
Dealer Name
Location
Winner
Shailendra Singh
Espirit Toyota
Delhi
1st Runners-up
Bajeel Najdulla PN
Amana Toyota
Malappuram
2nd Runners-up
Darshan C N
Viva Toyota
Bengaluru
Category – Dealer Instructor [Body]
Position
Name
Dealer Name
Location
Winner
Shibu K. V
Nippon Toyota
Cochin
1st Runners-up
Vahid Maner
Sonak Toyota
Kolhapur
2nd Runners-up
Mahesh Kumar Rawani
Budha Toyota
Patna
Category – Dealer Instructor [Paint]
Position
Name
Dealer Name
Location
Winner
K Srinivasa Rao
Radha Madav Toyota
Vijayawada
1st Runners-up
Mahaboob Basha B
Lanson Toyota
Chennai
2nd Runners-up
Atul Kumar
Sunny Toyota
Lucknow
Toyota Kirloskar Motor practically undertakes training initiatives for its personnel in areas such as dealer networking, marketing skills, customer voice, periodic reviews and coaching skills for team leaders and provide its sales & service personnel a comprehensive module on topics such as basic auto technology, products, sales SOP (Standard Operating Procedures), team development and value-added services to enhance overall customer satisfaction.
As a responsible organization, TKM has further embarked on a mission to bridge the skill gap divide through Toyota Technical Training Institute (TTTI), established in 2007, which offers a three-year rigorous full-time training in – Automobile Assembly, Automobile Paint, Automobile Weld and Mechatronics (a combination of mechanical and industrial electronics). Additionally, Gurukul, a well-equipped learning centre at TKM imparts diverse training to employees at all levels which helps them to improve their operational abilities and thoroughly delivering high-quality target standards.
The manpower at Toyota experiences higher levels of skill development through on-the-job training and the real-time experiences serve as a driving force in developing the next generation of workforce. Ensuring highest level of automotive professional work on Toyota's world-class products and service offerings across its dealerships, the company has partnered with industrial and technical training institutes across India to create the Toyota Technical Education Program (T-TEP). The program aims at providing technical know-how training to ITI students across India along with providing hands-on real-time experience within Toyota dealerships. So far, Toyota has partnered with 50 institutes since launch in 2006.
---
Overview of TKM
| | |
| --- | --- |
| Company name | Toyota Kirloskar Motor Private Limited |
| Equity participation | TMC: 89%, Kirloskar Systems Limited (Mr. Vikram S. Kirloskar): 11% |
| Number of employees | Approx. 6,500 |
| Land area | Approx. 432 acres (approx. 1,700,000 m2) |
| Building area | 74,000 m2 |
| Total Installed Production capacity | Upto 3,10,000 units |
Overview of TKM 1stPlant
| | |
| --- | --- |
| Established | October 1997 (start of production: December 1999) |
| Location | Bidadi |
| Products | Innova, Fortuner manufactured in India. Prado, Land Cruiser and Prius imported as CBUs. |
| Installed Production capacity | Upto 1,00,000 units |
Overview of TKM 2ndPlant
| | |
| --- | --- |
| Start of Production | December 2010 |
| Location | On the site of Toyota Kirloskar Motor Private Limited, Bidadi |
| Products | Corolla Altis, Toyota Yaris, Etios, Etios Liva, Etios Cross, Camry & Camry Hybrid |
| Installed Production capacity | Upto 2,10,000 units |
For any further Queries please contact: