Toyota Kirloskar Motor [TKM] partners with Roots Group of Companies to launch its first "Safety Model School" in Tamil Nadu
---
As a part of the initiative, Toyota along with Roots Group of Companies build a one-of-its-kind Traffic Park at Satchidananda Jothi Nikethan International School in Mettupalayam, Coimbatore to drive awareness and educate school students on road safety
The Traffic Park is established with an intend to bring a positive change in the mindset of school children in terms of their behavior and response with regard to road safety
Keeping the objective of extending Toyota's CSR reach to Pan India, Team Toyota Activity (TTA) is implemented in collaboration with Toyota's Business partners specially focusing on road safety
With seven Safety Model Schools across the country, around 6000 school children have benefitted from this initiative
Mettupalayam, Coimbatore, November 6th, 2019: Further championing the cause of road safety, Toyota Kirloskar Motor (TKM) in collaboration with Roots Group of Companies today, announced the launch of the 'Safety Model School' at Satchidananda Jothi Nikethan International School at Mettupalayam, Coimbatore. As a part of this programme, TKM along with Roots Group of Companies have built a one-of-its-kind Traffic Park at the school aiming to educate school children on the importance of traffic rules and responsible road safety habits. This well-rounded program on road safety is a part of 'Team Toyota Activity' (TTA) and is designed to develop school children as "Road Safety Ambassadors".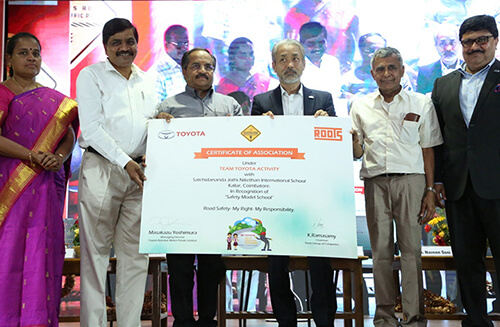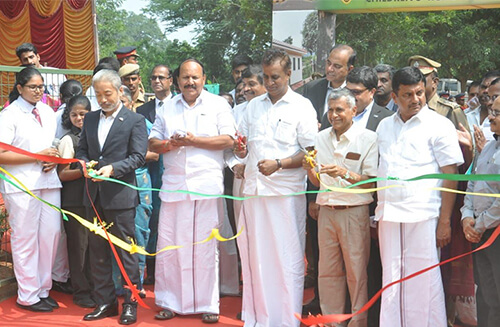 The inauguration of the traffic park was graced by Chief Guest, Thiru. S.P Velumani, honorable Minister for Municipal Administration, Rural development and Implementation of Special Programme, Government of Tamil Nadu along with Guests of Honor Mr. Sumit Sharan – Commissioner of Police, Coimbatore and Mr. R. Thiagarajan – Regional Transport Officer, Mettupalayam, Mr. K. Ramasamy – Chairman & Managing Director, Roots Group of Companies, Mr. Masakazu Yoshimura, Managing Director, Toyota Kirloskar Motor Pvt. Ltd., and Mr. Naveen Soni, Vice President, Toyota Kirloskar Motor. Dr.Kavidasan – Director Roots & Secretary Satchidananda Jothi Nikethan, Dr.S.Chandrasekar – Corporate Director Roots, Executives of Roots, TKM, Government officials, Principal, Teachers Students of Satchidanand Jothi Nikethan, Teachers and Students from the schools of Coimbatore were also present at the inauguration ceremony.
This is the first 'Safety Model School' initiated by TKM and Roots Group of Companies in the state of Tamil Nadu, and seventh in India. With an intent to outspread road safety message to a larger audience and proliferate its impact, to the schools in the region, by engaging the students from Class 5th to Class 9th. Roots Group of Companies, one of Toyota's integral partners has joined hands with them to drive their mission of road safety in this region. Both TKM & Roots Group of Companies will work towards improving road safety environment by imparting the best knowledge to school children and educating them on good road sense.
Commenting on its association with Toyota Kirloskar Motor, Mr. K. Ramasamy – Chairman & Managing Director, Roots Group of Companies said, "As per the government data, almost 1.5 Lakh people lost their lives in road accidents in 2017, which means every hour 17 people died on the road due to an accident. This is an alarming situation and all the OEMs need to work together to put a brake on the critical issue of road accidents. Over the years, we have worked closely with the local government and traffic authorities through "UYIR" a Trust formed by a group of like-minded corporates with a mission of making Coimbatore an Accident Free Society, the to drive the message of road safety in Coimbatore. It is our privilege to partner with Toyota Kirloskar Motor in the dedicated efforts to make Indian roads more safer. We are confident that the Safety Model School will be able to educate the young school children on the importance of road safety habits, encouraging them to be road safety ambassadors."
Addressing the gathering at the inaugural event, Mr. Masakazu Yoshimura, Managing Director, Toyota Kirloskar Motor Pvt Ltd said, "At Toyota, we firmly believe in the philosophy of 'Safety First'. Our focus and priority is not only to manufacture safe cars, but to strive towards enriching quality of life in India and provide a safe ecosystem for all. Increasing numbers of road safety death impact the prosperity of the nation. Through this "Safety Model School" initiative, our goal is to sensitize and mentor school children on various road safety problems and responsible safety habits. We are proud to partner with Roots Group of Companies in this mission to champion the cause of road safety amongst school children".
He further added, "The recent amendments made to the Motor Vehicles Bill by the Government will provide an impetus to our mission, forcing road travelers to follow traffic rules leading to safer road environment in the country."
Toyota Kirloskar Motor has been working on improving road safety conditions since 2005. This Safety Model School has been successfully implemented in Kolkata, Kochi, Delhi, Varanasi, Hisar and Rewari, with a promising impact on behavioral changes amongst school children. Following an integrated safety approach, TKM addresses the critical issues of road safety by adopting a three-dimensional concept focusing on Manufacturing Safe Cars, Developing Safe Drivers & Building Safer Environment, thereby building a safer community for tomorrow.
Team Toyota Activity is implemented by Toyota in partnership with business partners to create safety minds in the society. This is one step forward to develop the road simulation infrastructure at select schools and give practical training to children towards building right road users. The focus is to inculcate the right attitude by creating a "safety model school" to further expand its reach outside the school premises through strong road safety sense. Children are the main influencers. They play a key role in transforming the society we live in. Thus, this intervention focuses towards developing school children to be responsible road users thereby spreading the safety culture from school to society at large. This program also ensures wider road safety awareness and behavioral change of the school bus drivers through various levels of interactions.
Safety Programmes by TKM
Toyota Safety Education Programme (TSEP): TKM pioneers in implementing the road safety program and having launched in 2007, this year marks the 12th anniversary of the Toyota Safety Education Programme (TSEP) implementation. Till date, TSEP has covered more than 740,000 across India bringing about a positive change in the behavior as road users. Additionally, Toyota is working with various stakeholders including – school, business partners and police to take this initiative to a larger audience.
Toyota Driving School: Further, to reiterate company's vision of "Safest Car with Safest Driver", Toyota Driving School was launched in 2015 with an objective to train students to be responsible and safe drivers. With Toyota Driving Schools across India, TKM aims to bring down the rising number of road accidents caused majorly due to human error. The training module integrates technical expertise along with enhancing behavioral skills to create awareness about safety nationwide. Toyota Driving School has till date enrolled more than 8500 students – and by 2020 the company plans to launch 50 such schools across India, voicing their traffic safety commitment louder.
About Roots Group of Companies
Roots Group of Companies based at Coimbatore, is a multifaceted corporate entity, engaged in the manufacture of Automobile Horns, High Precision Engineering Components and other Auto Accessories, Mechanized Cleaning Equipments, Medical & Aero Space Components, Aluminium Die Casting Components, Alternators & Starter Motors, Tools & Dies, ergonomic and long-lasting Furnitures and Electric Vehicles.
Roots Group Exports its products to Europe, United Kingdom, United States of America, Malaysia, Singapore, Middle East, Australia, Japan, etc.
ROOTS Group employs over 3500 people directly and supports many medium & small scale industries and always focus on Safety, Quality, Performance and Service.
Roots CSR
Social responsibility and the will to serve immediate communities are both values deeply embedded in the DNA of the Roots Group. From implementing environment safety norms to devising policies for judicious use of resources within the organisation, Roots and its team takes its commitment to betterment seriously. A pre-determined percentage of the total group turnover has always been allocated to community development causes.
All members of the Roots community volunteer in medical camps and take an active role in spreading awareness of diseases and disorders. Education initiatives include providing uniforms and study support material, addressing basic infrastructure in local schools and construction of amenities like toilets and water tanks for the schools. Academically brilliant students are encouraged to pursue higher education and are funded by the Trust.
Roots is a powerful propagator of road safety. In liaison with the government and traffic divisions of Coimbatore city, the group embarked on a series of road safety signboards. Roots is actively engaged and takes part in the activities of "UYIR" Trust formed by like minded Corporates of Coimbatore with a clear mission of making Coimbatore an "Accident Free Society".
---
Overview of TKM
| | |
| --- | --- |
| Company name | Toyota Kirloskar Motor Private Limited |
| Equity participation | TMC: 89%, Kirloskar Systems Limited (Mr. Vikram S. Kirloskar): 11% |
| Number of employees | Approx. 6,500 |
| Land area | Approx. 432 acres (approx. 1,700,000 m2 ) |
| Building area | 74,000 m2 |
| Total Installed Production capacity | Upto 3,10,000 units |
Overview of TKM 1st Plant
| | |
| --- | --- |
| Established | October 1997 (start of production: December 1999) |
| Location | Bidadi |
| Products | Innova, Fortuner manufactured in India. Prado, Land Cruiser and Prius imported as CBUs. |
| Installed Production capacity | Upto 1,00,000 units |
Overview of TKM 2nd Plant
| | |
| --- | --- |
| Start of Production | December 2010 |
| Location | On the site of Toyota Kirloskar Motor Private Limited, Bidadi |
| Products | Corolla Altis, Toyota Yaris, Etios, Etios Liva, Etios Cross, Camry & Camry Hybrid |
| Installed Production capacity | Upto 2,10,000 units |
For any further Queries please contact: